Netto: Our waste separation partner
Promoting the circular economy: Trennhinweis e.V. is advocating for standardised labelling on packaging for all manufacturers
Maxhütte-Haidhof/Munich, 26th September 2022 – Netto Marken-Discount becomes the first major food retailer to print the recycling labels by Trennhinweis e. V. on the packaging of its own range products. The easily understandable symbols show consumers at a glance which bin the packaging belongs in and how to dispose it of correctly. This cross-manufacturer, customer-friendly solution is set to gradually replace Netto's own "recycling guide" displayed on the packaging of its own range products. Trennhinweis e. V. makes its packaging logo available to manufacturers and trading companies. The shared goal is to ensure that as many recyclable materials as possible are kept in the cycle by promoting correct waste separation, and thus encouraging resource and climate protection.
Netto Marken-Discount owns 4,280 branches and generates a turnover of 14.7 billion euro, which makes it one of the leading companies in the food retail industry. More than 50 percent of its assortment includes own range products. In the future, Netto will use the cross-industry recycling symbols by Trennhinweis e. V. to label the packaging of its own range items and will gradually replace its own "recycling guide". The new labels, which are easy to understand and remember, show consumers how to dispose of packaging correctly. An additional QR code takes consumers to an explanatory video about waste separation. By working together with Trennhinweis e. V., Netto makes a step towards the simplification and standardisation of recycling instructions printed on its packaging. "We strongly believe that manufacturers and retailers should use standardised recycling instructions. By using uniform labelling, we make it much easier for consumers to separate their waste correctly," explains Christina Stylianou, Head of Corporate Communications at Netto.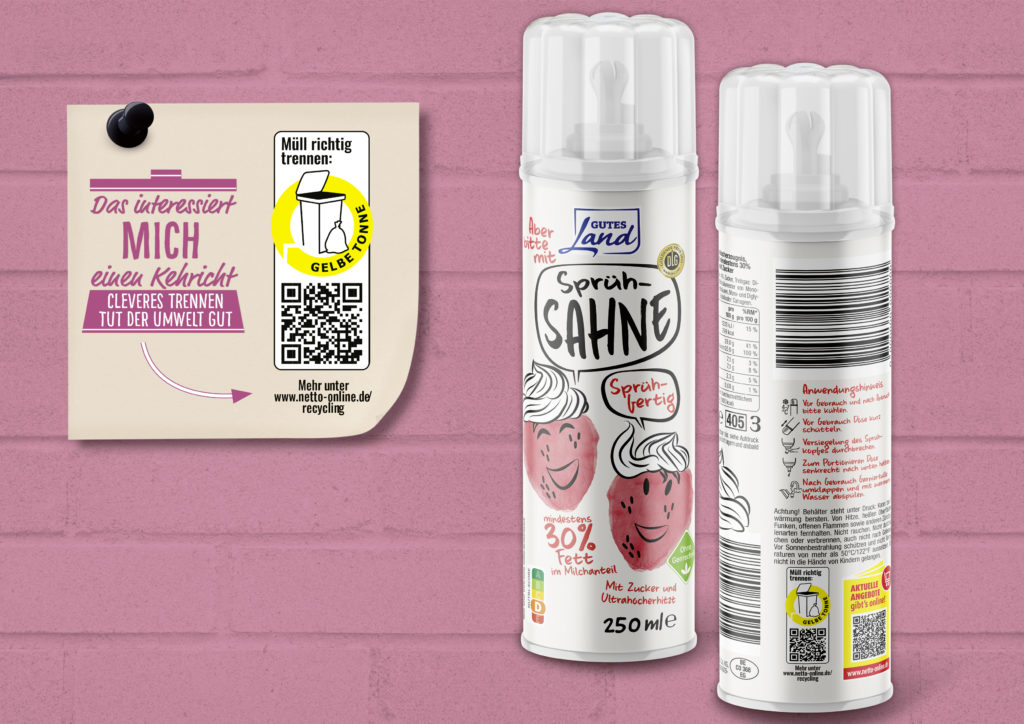 This educational work aims to achieve an increase in the quantity and quality of recyclables collected, thus enabling more high-quality recycling. According to a latest study by the Öko-Institut, 1.95 million tonnes of CO2 equivalents are already saved in Germany each year thanks to the recycling of packaging from yellow bins and bags as well as glass and paper, card and cardboard. If the quantities collected in yellow bins and bags can be optimised further, the emissions savings will increase to 2.55 million tonnes in 2030.
Recycling instructions – symbols that are easy to recognise and remember
With Netto Marken-Discount coming on board, Trennhinweis e. V. gains its first major partner from the food retail industry. "Our cooperation with Netto represents an important milestone on our journey to establishing our recycling labels as a uniform solution for all distributors of packaging," says Dr Alexandra Ranzinger, Chairwoman of Trennhinweis e. V. "The versatile design options enable our recycling labels to be used across the whole range of manufacturers. This gives us an opportunity to put an end to the hodgepodge of symbols displayed on packaging and to propose a sustainable solution for informing consumers about waste separation."
There is a great need for information about waste separation: According to a recent survey, 80 percent of consumers in Germany would wish to see uniform recycling labels printed on packaging informing them about the correct disposal of the respective packaging. Trennhinweis e. V. meets this wish. This non-profit association established by dual systems provides packaging distributors with recycling labels in flexible design options which they can print on their product packaging.
The recycling labels show consumers at a glance where the packaging belongs: in the yellow bin or bag, the paper bin or in the container for glass. The uniform basic layout also ensures that consumers find it easy to recognise and remember the symbols. At the same time, the circular logo symbolises the recycling cycle.
In addition to the symbols for correct waste separation, the association also provides manufacturers with QR codes that can also be printed on packaging. By scanning the QR code, consumers can access short informational videos about waste separation.
About Netto Marken-Discount
With over 4,280 branches, around 81,800 employees, 21 million customers a week and a turnover of 14.7 billion euro, Netto Marken-Discount is one of the leading companies in the food retail industry. The company, which currently employs 5,480 trainees, is also one of the most important training companies in the German retail sector. Taking on responsibility is part of Netto's corporate culture – the trading company focuses on four key areas: Societal and social commitment, fair cooperation with employees and suppliers, careful use of resources and the optimisation of the purchasing strategy in line with sustainability aspects. Netto is a partner of WWF Germany: In addition to expanding and promoting the more sustainable own range of products, Netto is also working on key issues to further reduce its own ecological footprint.
About Trennhinweis e. V.
Trennhinweis e. V. is committed to the qualitative and quantitative optimisation of the seperate collection of packaging waste. The association is a joint initiative of dual systems in Germany that are responsible for organising the collection, sorting and recycling of used sales packaging nationwide. Packaging manufacturers and retailers can print the waste sorting labels provided by the association on their sales packaging free of charge. The labels use easily understandable symbols and provide information on the correct separation and disposal of the packaging in question. Trennhinweis e. V. thus aims to educate consumers on the issue of waste separation and, by doing so, to ensure that more packaging is correctly recycled and fed back into the recycling cycle. This reduces the consumption of resources as well as CO2 emissions. and relieves the burden on the environment as a consequence.
About the survey
The data used is based on an online survey by YouGov Deutschland GmbH on behalf of dual systems, in which 2025 people took part between 6th and 8th April 2022. The results are weighted and are representative of the German population aged 18 and over.